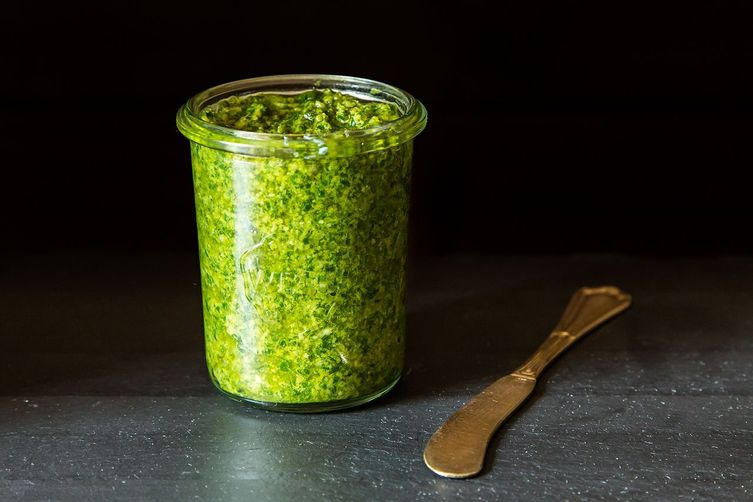 Lately, I have been trying a bunch of different recipes from different food blogs, and I have found some not-so-great ones (many vegan mac-n-cheese recipes) and some I-want-to-eat-this-everyday ones (the ones I will be sharing in this post).
Vegan Pesto
The first recipe that I have found great success with is the vegan pesto pictured above. This pesto has a simple ingredient list and is extremely easy to make. I mixed it with some red quinoa and ground pork, and it was absolutely delicious. Tip: cut the amount of extra virgin olive oil in half! You are already getting plenty of healthy fats from the pine nuts, and you don't want to overdo it. Find the recipe here.
No Bake Cookie Dough Bites

The next recipe I really liked were the cookie dough bites shown above! Once again, these have a simple ingredient list, and are super easy to make. I cannot believe how tasty these were, especially given how healthy they are! It says to use a food processor, but for me, a blender worked just fine! Tip: make sure your Medjool dates are not dried out, or else the sweetness of your final product will suffer. Find the recipe here.
No Bake Brownies

The brownies pictured above are amazing! No baking is required, and essentially there are only 3 ingredients. All you need are walnuts, cacao powder, and Medjool dates! Tip: opt to put them in the freezer, rather than the refrigerator! Colder is better for these beauties (and generally everything else). Check out the recipe here.
Whole Wheat Pumpkin Muffins

Life changes when you realize that your pumpkin craving can be satisfied outside of the fall season. Canned pumpkin is awesome in allowing you to do so. These whole wheat pumpkin muffins have a larger ingredient list than the previous goodies, but many of them are basic baking ingredients. I used 1/2 cup of sugar instead of 2/3 cup, and I have no regrets. They tasted amazing. I am even considering using 1/3 cup next time. Tip: though many in the comments say that baking it for a shorter amount of time worked for them, for me, the suggested time was ideal. Find the recipe here.
Two Ingredient Chocolate Ice Cream

I saved the best for last! This two-ingredient ice cream is phenomenal. If you haven't heard of making ice cream with frozen bananas yet, then who are you? Just kidding. But seriously, this discovery is life changing. The texture is smooth and creamy. It is everything you would ever want from ice cream, and more because it really is truly healthy. This slight variant on plain banana ice cream (adding cacao powder) just adds some chocolate-y flavor and a small dose of antioxidants. Tip: to achieve the ultimate creamy texture, use a spoon to mix before serving. Find the recipe here.
Now if only I could find a good vegan mac-n-cheese recipe…